Winemakers

Award winning winemaker, Greg Follett of Lake Breeze Wines is Julie's brother and naturally, the winemaker of False Cape Wines!
Greg is a hands on winemaker, preferring to spend his time in the winery and walking the vineyards. He graduated from Roseworthy Agricultural College with a degree in Winemaking in 1990 and over the next few years, worked several vintages in Australia, California and France. He returned home in 1992 to commence making wine in his family's now very well established winery, Lake Breeze (click on link).
Greg has an impressive track record with lots of trophies and gold medals for his wines, too numerous to mention! What we really love about Greg however is his underestimated charm until he's handed a microphone and his refreshing honesty...known to confess that he's still winging it!
When you sample a False Cape Wine, you're drinking a labour of family love.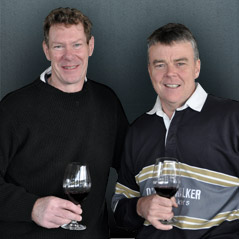 Nick Walker and David O'Leary
False Cape Willson River Riesling's first vintage was 2018 and naturally we chose O'leary Walker Winery of Clare to hand craft our Kangaroo Island grapes. Nick Walker winemaker has an infinity with Kangaroo Island with a holiday house at Emu Bay and was keen to experiement with cool climate riesling berries "Nick's philosophy is pretty simple, make the best wines possible from the best vineyard sites, and leave a little time for fishing".
The 2021 vintage received 94 points from James Halliday Wine Companion.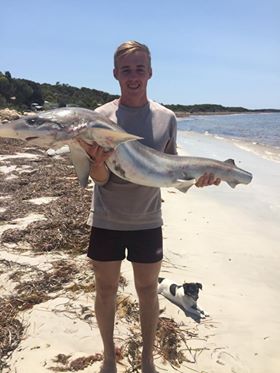 Our son Coby has just finished his third year of Viticulture and Winemaking and also loves coming home to go fishing. He has done a vintages at Lake Breeze Wines, Gemtree Wines at McLaren Vale and is currently working at Shaw and Smith in the Adelaide Hills. He hopes to make a sparkling Pinot Noir in the future to add to our False Cape Range! We can't wait! We have the vines planted but they are still a few years away from fruiting.