Our Sustainability Practices
Named after a nearby coastal landmark, we established our False Cape vineyard on Kangaroo Island 1999 together with our winemaking family, the Folletts Lake Breeze Wines in Langhorne Creek. Today our vineyard covers over 65 acres and we've planted it with half red and half white grapes, with seven varietals. These are Cabernet, Shiraz, Merlot, Sauvignon Blanc, Pinot Grigio, Chardonnay, Riesling,Pinot Noir and Tempranillo.
We take great pride in caring for the land around us and therefore our vineyard is grown as naturally and sustainably as possible through a series of natural practices.
---
Our reds are dry grown ensuring yields are kept low with concentrated, intense flavours
This means we rely on natural annual rainfall and do not irrigate our vineyard with supplement water. As a result, less berries grow on the vines however those that do are sweeter, denser and smaller. Think about it like tomatoes…you know how the smaller, cherry tomatoes at the farmers markets are always full of flavour and sweetness compared to those in the supermarket that have been pumped with water and diluted the flavour? Growing grapes in this way is a rarity in todays vineyard production as most farmers either live in too dry regions or need to produce a larger yield of grapes to cover the expenses of running a large vineyard.
The advantage we have is that Kangaroo Island is cool climate and we receive cooling summer breezes from the Southern Ocean only 5 km away.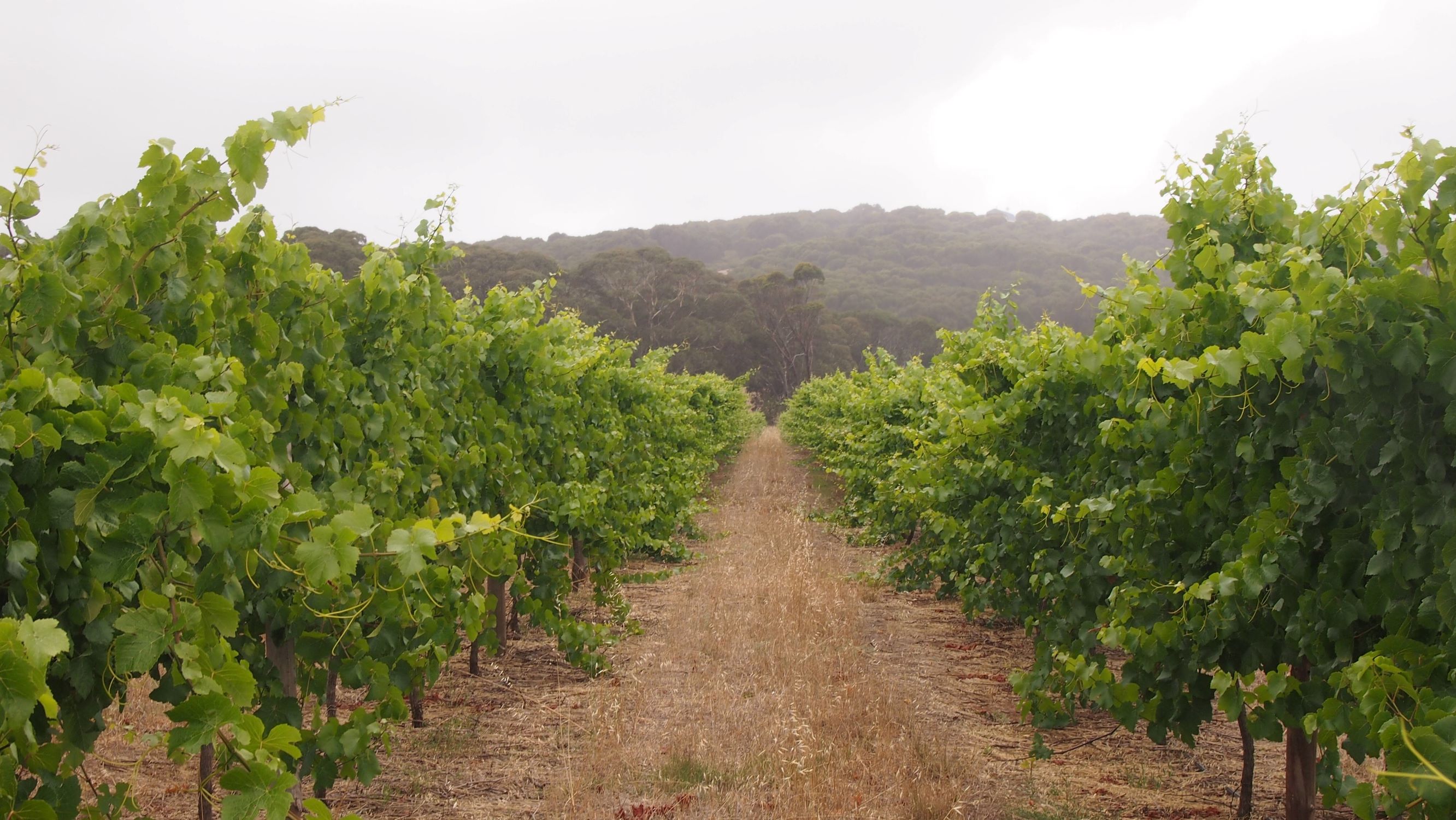 It's also not as easy as just turning off the tap! Our vineyard was selected for it's terra rosa soils and north facing slope that is the perfect soil mix to prevent moisture from escaping! We've also selected rootstock that will seek the moisture deep in the soil (not just on the surface) and have spaced our vines sufficiently to get all the moisture they can so there's no competition for water between each vine!
---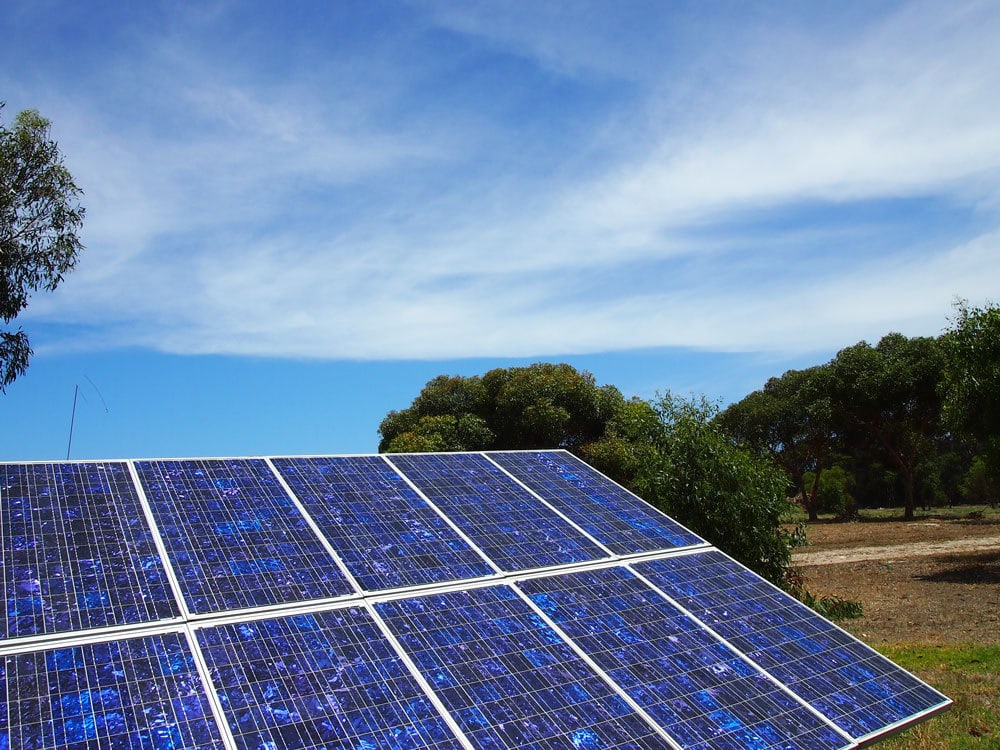 Our Vineyard is totally Off Grid
Solar Power provided from the sun and these on ground solar panels.
Our farm is entirely run off the grid, relying on solar panels to generate 100% of the electricity used on the farm. This reduces 100% of the greenhouse gas emissions that would typically occur in a vineyard of our size (even our home is entirely off grid so getting internet has been a fun exercise!!)
---
Free range turkeys roam the vineyard for pest control purposes.
Pests are managed with the help from our free range Turkeys who also roam our vineyards. This reduces the need for unnecessary pesticides on our grapes. You will see the turkeys wandering around the cellar door as well as some of them roost in the large gum tree out the front each night.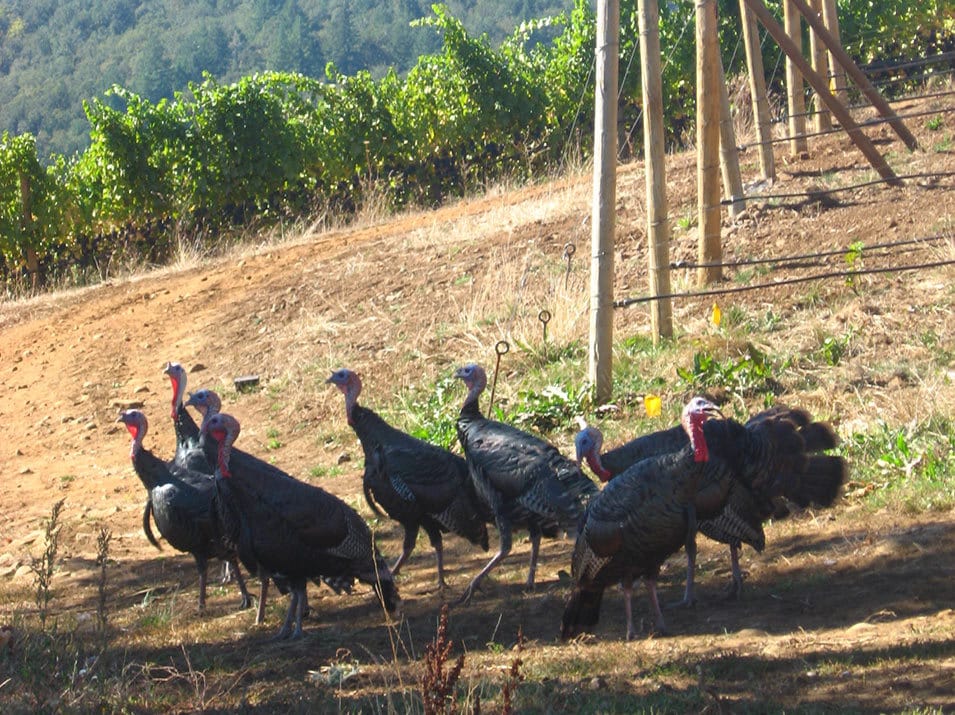 ---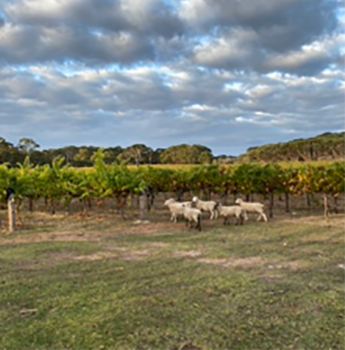 Sheep are used during winter months for weed management and to encourage soil biodiversity
Throughout the winter months we let our sheep roam freely and graze amongst the vineyards to control weed growth reducing the need for chemical sprays. A side benefit of this technique is that nutrient recycling occurs through conversion of weeds into manure. The sheep are then removed from the vineyard before budburst to prevent them from eating the new vine shoots.
---

The vineyard is netted each year to prevent damage to the fruit caused by birds prior to harvest
A huge job to net all 60 acres of our vineyard however something we deem incredibly important. We've worked hard to grow and nurture every single berry on our vines and we're going to protect them!
---
We've been lucky to be able to work with our winemaking family and convince our award winning brother Greg Follett of Lake Breeze Wines to turn our sustainable grapes into wine and he's done a fantastic job! In 2018 our Captain Cabernet Sauvignon won the 'Kangaroo Island Red Wine of the Year' and our Chardonnay won the 'Kangaroo Island White Wine of the Year'. Excitingly our Captain Caberntet Sauvignon also scored 95 points with James Halliday in 2018, 2019 and 2020 and continues to impress each year.
James Halliday also rated all of our wines over 90 points in 2022 and we have a 4 star winery.